RAFT: Reduced Access Fee for Tritons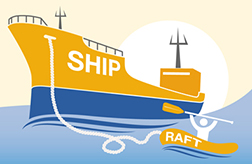 RAFT provides scheduled visits, in-house laboratory services and x-ray services at no additional cost when rendered at UCSD SHS.
All registered students have access to SHS whether they have UC SHIP or not. RAFT gives students who waive UC SHIP the peace of mind that they can be seen at SHS for many of their primary care needs without the worry of high costs. Students who waive UC SHIP but do not purchase RAFT will be required to pay the full cost of all services at SHS.
The Benefits of RAFT
If you do waive out of SHIP, please take a moment to read about transferring your insurance coverage to San Diego.
Review the Cost of Services
Students may enroll in RAFT during the on-line waiver application process. The cost is $70.00 per quarter (2023-2024) and is automatically billed to the student's account each quarter.
What is covered by RAFT?
Scheduled appointments at SHS for care of illness or injury
In-house laboratory tests at SHS for care of illness or injury; such as cultures (throat, skin, stool, urine, aerobic), urinalysis, wet mount (stool), CBC, occult blood, pregnancy (urine-medically indicated), rapid strep, mono, influenza Ag rapid, KOH (yeast, fungus), ESR, and urine drug screen. ​
X-ray services at SHS for care of illness or injury (No Fee)
Access to SHS Urgent Care at a fee of $20.00 per visit
What is NOT covered by RAFT?
Off campus medical care, including laboratory tests drawn at SHS but sent to an off-campus lab
Special or elective procedures and tests
Prescriptions and over-the-counter medications
Immunizations, supplies and optometry services
Routine health clearances and administrative exams
Services not listed under "What is covered"
Services obtained outside of UCSD Student Health Services
How do I purchase RAFT?
Enrollment in RAFT is part of the Health Fee Waiver on-line application process
Once you enroll, the fee for RAFT is automatically billed each quarter of the academic year
Only registered students who successfully waived UC SHIP are eligible to enroll in RAFT
If you did not enroll in RAFT during the waiver application process, you may enroll by logging in to the Health Fee Waiver Tool to opt-in to RAFT. 
Important details
RAFT is not insurance.
RAFT is not refundable for the term purchased unless you lose your private insurance coverage and enroll in UC SHIP through the Exception to Closed Enrollment process.
If your SHIP waiver is denied during the waiver application process, your enrollment in RAFT will be canceled and the RAFT fee refunded.
There is no RAFT charge for the summer. RAFT coverage continues through summer and is charged in the previous Spring quarter.
For services not covered under RAFT, you may obtain an itemized statement from the SHS billing page to submit to your own private insurance for consideration for reimbursement.